Maple Lane Community
Thank you for voting us best Apartment Community in Elkhart County for 2022!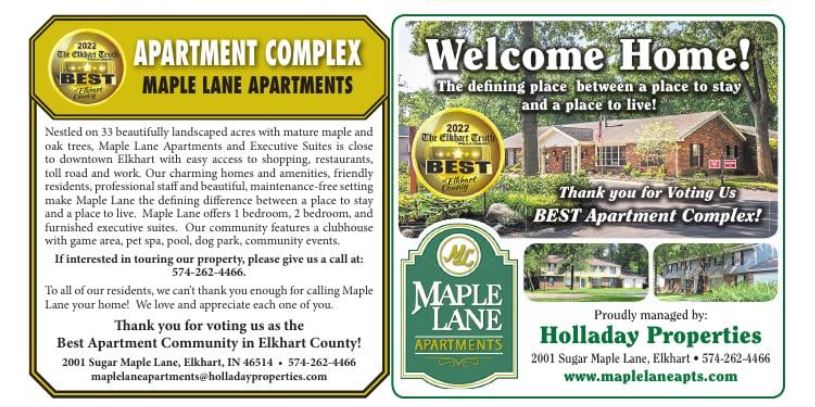 Bulletin Board
Marina Filer
1/30/2023
If anyone is in need of a sofa, I have one that is 100+ inches long. It will come with a brown sofa cover. Let me know if you are interested and I can send pictures. At this point, I'm not looking for payment, I just don't need it.
Matthew Reeves
12/31/2022
Hello! I have a gently used recliner that is free to anyone who wants it. The only catch is you have to help me take it down the stairs and pick it up. Happy Holidays!
jason wright
12/9/2022
is anyone missing an orange tabby cat looks to be about a year old. I see it walking around the back of the complex by the wood line by the park
Brittney Wade
11/25/2022
Selling our glass round, modern table with 4 chairs for $550. Text 574-217-6938 for any other questions or if you want pictures.
sydney volheim
11/2/2022
Hey y'all there was just a large,red, looking golden retriever in the back of my apartment. He/ she was loose and no owners were around he took off after the squirrels. I just figured I'd post on here just in case some one lost their pup.
Alexis Bird
10/16/2022
I am selling a mini fridge for $80 I bought it for $200. It's in great condition I just need it gone !!
Dena
10/6/2022
Is anyone missing a white cat with a tiger brown tail? I gave him food and water because he looked very hungry. He was by the trash cans by building 69
Dena
9/11/2022
I am selling a 6 pc dining set. Pier one import table. Gray in color excellent condition. 4 dining chairs and a bench is included. $250
Corey Mowrer
9/8/2022
Do any of my neighbors game on PC? I need friends to game with!
Audriana Coleman
9/4/2022
My car was hit last night while parked in a parking spot. If anyone knows anything please reach out. My car is a black Toyota Camry. There is a noticeable dent on the passenger bumper side. With white scratches.
John Aaron Albano
9/2/2022
Hello, anyone with a BMV license want to make some extra cash by teaching me how to drive while helping me accomplish 50 hours of driving requirement? I already have a learner's permit and a car.
Audrey Thompson
7/17/2022
Hii I just recently moved in and was wondering if anyone had in gently used items for sale. Message me at 5742185429 Thankss
Mildreth Velasquez
7/12/2022
if anyone has information on a size 24 bike that went missing from our yard at 62b yesterday 12/7/2022. We thought that someone borrowed it and would return it but we still haven't recovered it, the bike belongs to our daughter.
Angela Rehmels
6/26/2022
ARRIS SURFboard DOCSIS 3.0 cable modem. Model # SB6190. 1.4 Gbps, 32 x 8 modem channels. $75 Open box but never used. (look at pictures for spec details) Retail value $100
Susan Linder
6/22/2022
I have a coffee table and side table in great condition if anyone interested. 678-457-3396
Angela Rehmels
6/2/2022
I have a NordicTrack T6.5Z for sale for $300. works great. Just don't use it. Call Angie 574-536-4610
Kylee Bartlett
4/13/2022
I have a six year old female black and white cat I am looking to rehome. She is super friendly and cuddly. She comes with toys, litter box, litter genie, food bowls, and water fountain. Need her gone asap.
Luis Gil Morillo
2/24/2022
Good evening, tomorrow we will be moving into the complex and wanted to see if anyone is selling or donating gently used household items as we haven't purchased anything yet. Thanks.
Todd Genth
2/1/2022
Over sized wall huger recliner chair. Purchased a year ago from Ashley furniture on sale for 399.99 smoke free and great condition. Asking 125.00 OBO 574 343 0201
Skylar Stutsman
1/7/2022
My mother had sent me a package to my apartment building 1857 Apt D. It had said delivered and was no where to be seen; they had confirmed delivery; if anyone accidentally had a package left at their apartment I would really appreciate it if it could be returned to me. Thank you.
Jennifer Rayman
12/30/2021
We have a free chocolate brown couch that has recliners on each side. Free to anyone who wants to come get it. Has dog hair but has been in a clean home. Call me 219-379-7799 Jenny
Sheli Manzon
10/11/2021
Do we get trick or treaters? Wondering if I should buy candy for them!
Jacqueline Cusack
10/7/2021
We are a retired couple in their 60s who enjoy getting together for a few drinks and playing Euchre once or twice a month. Is anyone interested?
Victoria Welles
9/10/2021
Please clean up after your dog. I have had a repeated incident behind my apartment. I clean up after my dog.
Michaela Rojas
9/7/2021
Hey everyone, I recently became a Pink Zebra Consultant. We are a home fragrance company. If anyone is interested in some free wax melt samples and a catalog please feel free to message me or call 574-584-4674. Thank you
Gwendolyn Thomas
9/1/2021
Residents, I have a full size sofa for sale. 1 year old Grey tweed. If interested please call 269-599-7388,
jason wright
8/23/2021
Is anyone missing a young black female kitty? She is very friendly and skinny ??
Dianna Jefferson
7/22/2021
Hello residents! Was wondering if anyone could point me in the direction of someone who can professionally mount TVs. Thanks in advance!
Audriana Coleman
3/10/2021
Does anyone know if the clubhouse will be open by May?
Kylee Bartlett
2/16/2021
Hello! My name is Kylee Bartlett. I am a pet/house sitter. If anyone needs someone to take care of their pets please let me know. I can provide references!! Thank you!
Jacqueline Cusack
1/12/2021
$80 We have a generic box spring mattress for queen bed. Nothing fancy but it works. New, never used. Clean, smoke-free home. 333-7194. Leave message please. Thank you!
Sharon Johnson
12/16/2020
IF ANYONE KNOWS OF A HANDYMAN THAT MIGHT DO A SMALL PROJECT IN MY GARAGE THAT CONSISTS OF SOME SAWING AND ATACHMENTS TO THE WALL PLEASE LET ME KNOW. THANKS, SHARON JOHNSON 206-9844
Debbie DeBoer
11/10/2020
I have a dining table for sale. It has two leaves and 4 chairs. Although, the 4th chair needs some repair. I'm asking $200 for it. If you are interested, call Debbie at 574-379-9009.
Kelly Morgan
11/4/2020
My name is Mary Thomas and my cat has ran off. He's black with a little white spot on his lower belly. He has a blue collar with a camo tag. Also has vet heart tag. His name is savage. If any one finds him my phone number is on the back of name tag. Please message or call me. Thank you!
Angela Rehmels
10/18/2020
If anyone is in need of a reclining loveseat, I have one for sale $300. Very good quality, like new. Color: medium brownish. Call Angie 574-536-4610
Holly Koltin
10/2/2020
dose anyone pass out candy within the appartment complex for Halloween?
Kristen McFarland
3/18/2020
Maple Lane Residents-  Confined in your apartment and need something to do? We have our free little library in the leasing office that have many great books in it.  Let us know what types of books interest you and we will bring a few books and leave them at your door for you.   Give us a call at 574-262-4466 or send an email to
[email protected]
Sharon Johnson
3/8/2020
I'M LOOKING FOR SOMEONE WITH A TRUCK TO PICK UP A BED IN NILES MICHIGAN FOR ME. FEE IS NEGOTIABLE....SHARON JOHNSON
Kristen McFarland
1/15/2020
Freeze Warning Tips for Residents: When temperatures are forecast to be below 32 ° F, water pipes can freeze, burst, and cause a great deal of damage. Help protect your apartment home by taking these steps during a freeze: 1) Let your faucets drip! Run both hot and cold water in a very fine stream in each of your apartment's faucets: kitchen sink, bathroom sinks, bath tubs, showers, etc. 2) Open your cupboards! Leave the cabinet doors under all sinks open so that the pipes will be ventilated with warm air. Leaving the bathroom and kitchen doors open helps too. 3) Heat your home! If you leave for the day (or an extended period of time) do not turn the heat completely off. Turn it on, set to the lowest setting you wish (60 ° is recommended). 4) Be alert! If you see anything unusual - for example if your water does not come on, or if you see water leaking anywhere in or around your apartment building, notify the leasing office and the maintenance team immediately! These precautions are essential in order to avoid the more drastic measure of temporarily cutting off the water to all apartments and draining the lines to prevent damage from bursting pipes.
Alesia Robinson
11/7/2019
We have started our annual food drive! Please stop by the office and donate. Thank you Here is the list of the most needed items:
Kristen McFarland
10/31/2019
Filter & Furnace Inspections start Monday, November 4th. Notices will be posted on building doors tomorrow. See attached map to see when your building will be done. Please let the office know if you have any questions.
Sharon Johnson
10/22/2019
does anyone use this bulletin board?? sharon johnson Bldg 39
Testimonials
Love this place. Great location, Great neighbors and a staff that goes above and beyond to make the community a great place to live.

- Kyle
Everyone here is amazing. Like having one big family.

- Heather
if you're looking for a quiet park like setting with great amenities and an awesome staff, this is the place to be. A dog park, a pool, a fitness room and great neighbors! what more could you ask for? It gets better, the manager is very friendly and helpful, as are the rest of the office staff. The maintenance staff is right on fixing any issues you have and the landscaping is beautiful. I love it here and would recommend Maple Lane to anyone asking. This is a great place to call home.

- Susan